[Client name]  –  [Website]
Google is teeming with huge opportunities for businesses, is yours missing out?
Google Adwords Search Advertising
Your Business, Needs and Goals
[CLIENT] is a [xxxxx] based in [location] specialising in [industry 1], [industry 2] [across the UK / within region].
To aid their continued growth [CLIENT] needs to increase the [Enquiries / Leads / Sales / Bookings] they receive from their website.
Website address:
Marketing objectives
[Increase Enquiries / Leads / Sales / Bookings.]
[Increase marketing list.]
Target Industry/s
Competition
[Highly competitive]
[Medium to high competition]
Target Location/s
[Town]
[County]
[Region]
[England]
[UK]
[International]
Urgency
Budget
[TBC]
[Between £X-XK total investment per month]
Why Google Paid Advertising Works
I Thought No One Clicked On Ads?
Paid ads receive 20%+ of all clicks.
With up to 8 ads per page, they fill the page before scrolling. 55% don't even recognise them as ads!
Intent
Those searching on Google already have the intent to find your roles or services.
Highly Targeted
We use advanced techniques to ensure your ads are only shown to your ideal audiences. There's no limit to the number of ads we run.
Direct Relationships
Prospects are taken directly to your website where they learn about only your roles / services and not your competitor's (like they do on Job Boards and Social Media).
Instant ROI
Your adverts go live quickly and start delivering results immediately.
Split Tested
Multiple advert variations are split tested, over time the best performing adverts are shown more often and your results increase.
It's Only The Results That Matter
Conversion tracking, continued improvement and detailed reports are key to a successful campaign, this allows us to increase the applications and enquiries you receive whilst decreasing the cost.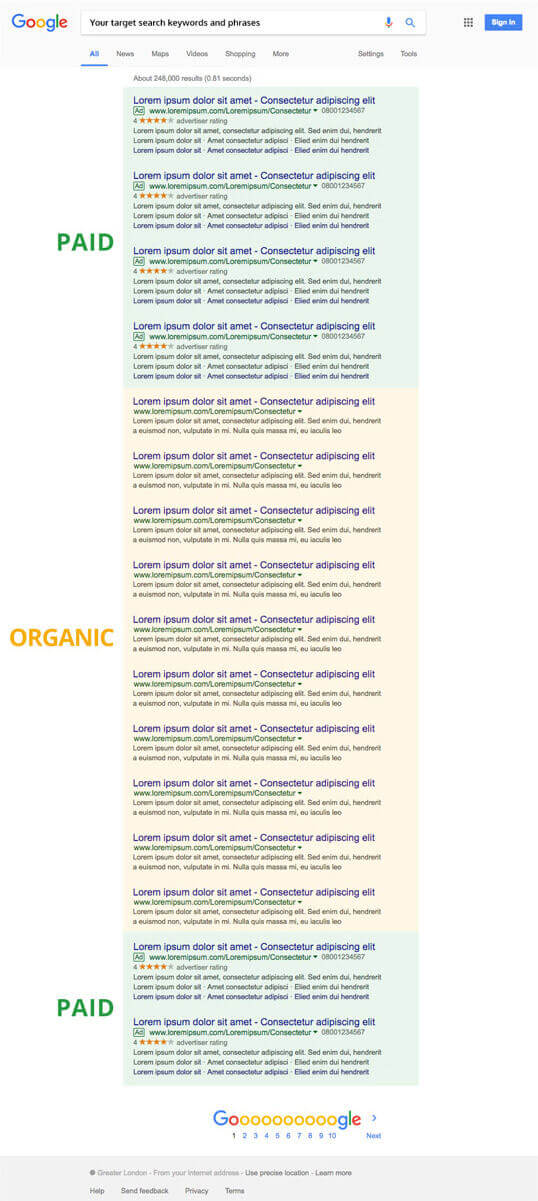 Google searches made each month by prospects searching for your specific offering.
[industry]

[industry]

[industry]

[industry]
[Town]

[County]

[Region]

[England]

[Wales]

[Scotland]

[UK]

[International]
[Google.co.uk]

[Google.com]

[Google.ie]

[Bing.com]
Service
Searches Per Month
Recommended monthly click budget
Google Search Term Sample
The following is a small initial sample of search terms based on the information we have found about your business on your website. Before we build our campaign we will perform search term research that analyses thousands of potential search terms.
The Google Display Network is a collection of third party websites and apps that accept Google AdWords ads. The Google Display Network allows us to target very specific groups of people by only triggering our adverts when they are consuming content that relates to our offering.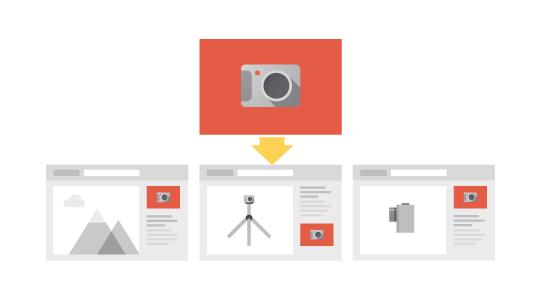 Create all types of ads – text, image, interactive and video ads.

Place those ads on websites that are relevant to what you're selling.
Show those ads to the people who are likely to be most interested.
Manage and track your budget, campaigns and results as you go.
Keyword Targeting
We use keywords to trigger your ads to be shown to people who are visiting or have visited websites with content that's contextually relevant to those keywords.
Placement Targeting
We create placement campaigns which only serve your adverts to specific predefined websites, web-pages, apps, or individual ad units.
Topic Targeting
We can choose to display our ads alongside the top content topics being consumed across the Display Network. When you associate your brand with the right content, you can connect with the specific audience who consume that content.

Recommended monthly click budget
Reconnect with the 95%+ of website visitors that leave without contacting you!
Prospects rarely make contact with you during their first visit to your website. Retargeting helps us to reconnect and re-present your offerings to those who have shown a past interest by visiting your website.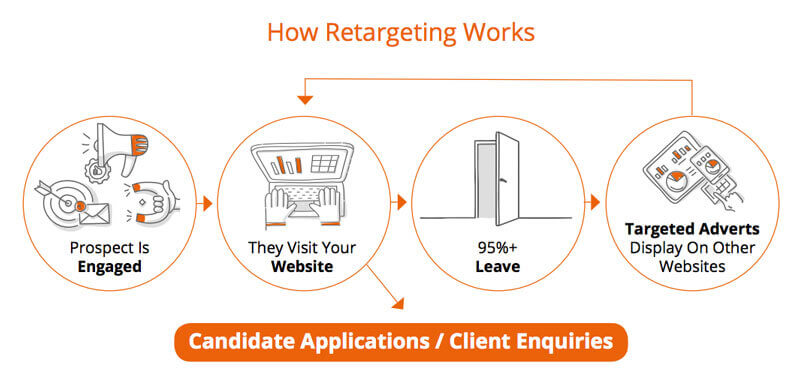 Retargeting adverts can be shown across all major online platforms including Google search pages, most Social platforms as well as millions of third party websites.
Retargeting is a powerful way to stay engaged with your target audience and can dramatically improve your enquiry results.
Advert messaging and design
We design, write and develop creative adverts that compel relevant targets to click through to your site, they feature a full range of benefits, offers and wording.
Recommended monthly click budget

To become more cost effective, Pay Per Click campaigns require constant monitoring and attention. Our objective is to provide a steady improvement in quality, quantity and value.
Research to identify new advertising opportunities and markets
Keyword analysis and optimisation
Click through rate and quality score optimisation
Cost Per Click monitoring to help you receive the cheapest possible price
Advert content performance optimisation and split testing
Advert design developments (if applicable)
Daily budget management including impression, share and lost budget
Google Analytics and conversion tracking analysis
Monthly KPI reports detailing impressions, clicks, click-through rates, costs and conversions.
[client]'s – Approach and Quick Wins
Below are our suggestions on how to kick-off your campaign to maximise the initial results.
[Full review of past Pay-Per-Click campaigns]
[Full target market and search term research]
[Analyse your website and provide conversion improvement recommendations]
[Campaign specific landing pages – [Advise on the creation / Write and build using your CMS]]
[Define conversion goals, configure in Google Analytics and install tracking code on your website]
[Gradual campaign rollout]
[Remarketing Adverts – write, design and implement]
Budget / Result Projections
Generally speaking your budget needs to be a reflection of two major factors, how competitive your target market is, and the exposure you require. If you choose a budget that's too small, you will not gain enough website visits to deliver the volume of applications / enquiries required to produce a reasonable ROI.
Below we have advised on what a minimum and recommended budget would be for your situation.
Minimum
Recommended
Total
Investment /Month
£[x,xxx]
/Month

(£[xxx] Click Spend £[xxx] Management Fee)

£[x,xxx]
/Month

(£[xxx] Click Spend £[xxx] Management Fee)

Setup Fee One-off
£[xx]
£[xx]
Avg. Position
[x.x]
[x.x]
Impressions /Month
[x,xxx]
[x,xxx]
Clicks /Month
[x,xxx]
[x,xxx]
[Applications / Enquiries] /Month
(Est. based on avg.
[4]% and target [12]%
conversion rate)
[xx – xx]
[xx – xx]
* The values in this table are estimations based upon our initial research, the values that your live campaigns receive will differ.
Average results we achieve in Less Than 3 Months
Increase in Enquiries / Sales
Increase in Google Visibility and Traffic
Increase in Marketing List Signup Rate
Increase in Conversion Rate